TEKTONIK ft Dana Leong | Into The Light
Trouble viewing in China? Click here.
如无法观看请点击
"Music gives a soul to the universe, wings to the mind, flight to the imagination and life to everything."
—Plato
Grammy Award winning musician, Dana Leong travels to Omachi City, Japan to collaborate with the head priest of Nyakuichioji Shrine. He is the first foreigner in 800 years to perform in the shrine remixing traditional Shinto Cleansing Prayer with traditional Japanese instruments and cello, dedicated to world peace from this "Into the Light".
Dana Leong skillfully unifies the scenery, culture and history to create this stunning music. Through his personal perspective, we will have the opportunity to learn the story behind the birth of this composition for the first time, and get close to the whole process of a wonderful musician who surprises the audience!
---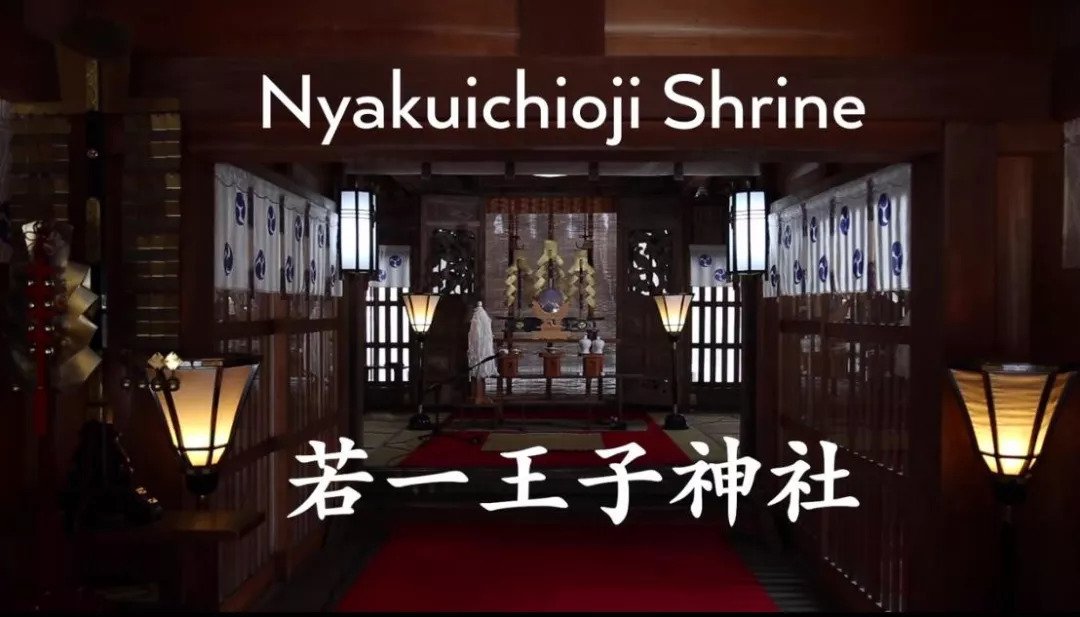 Nyakuichioji Shrine
As we all know, Japanese culture is very deliberate and exact, yet often it is also very much understated. Thus, one of my biggest concerns is to be careful not to overstep my welcome, accepting that "the rules are the rules" and likely exist for a very logical reason. Therefore, I took a very unique approach to composing on the spot with this project as I wanted the end result to have a modern sound, without taking any of our collaborators far out of their comfort zone during the process.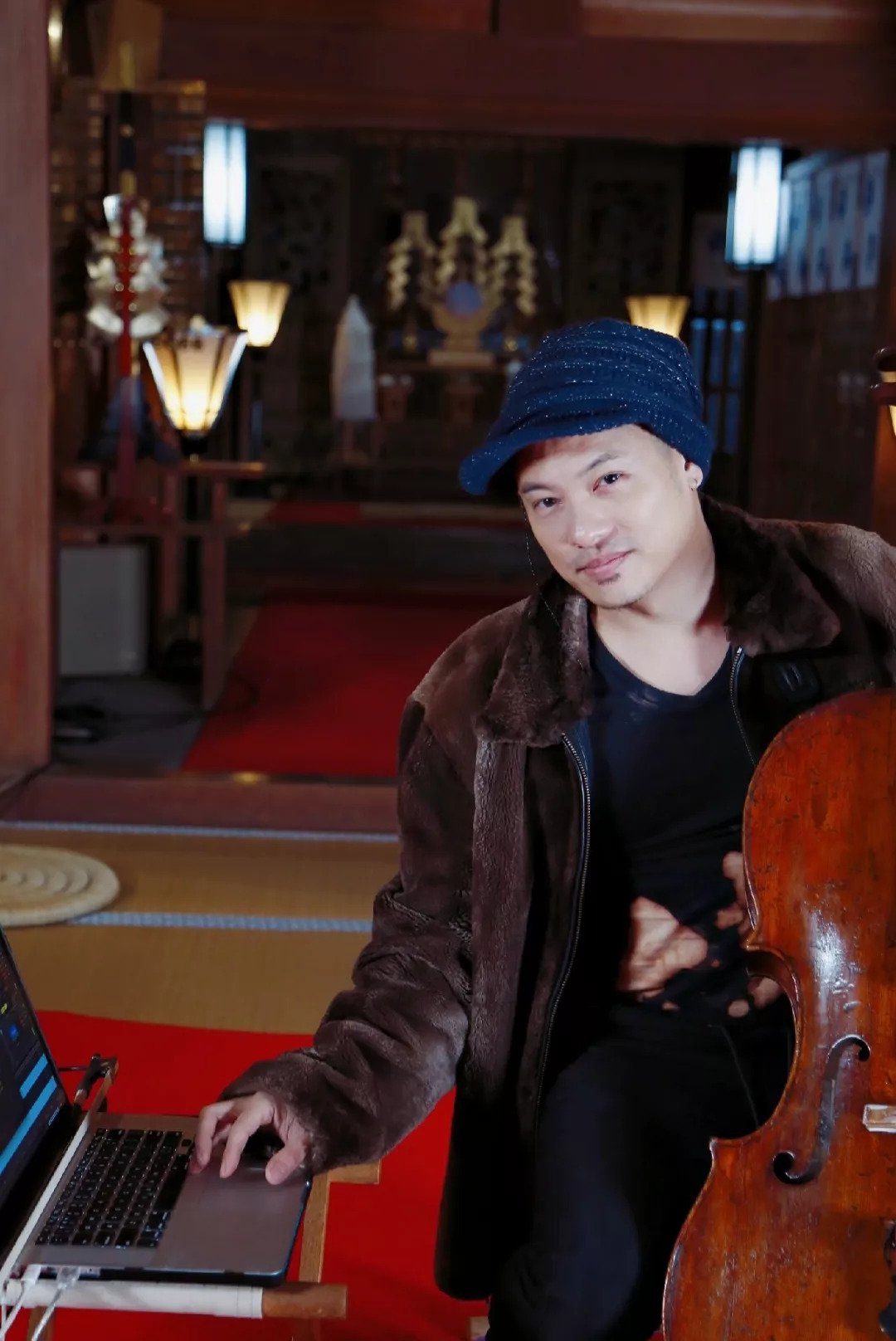 Dana Leong composes on the spot
When I stepped foot into the shrine with head priest Naohiko Takeuchi, I soon realized we don't share the same musical language or mother tongue, but we share the same vocabulary. For example the sheet music for the traditional instruments were written in numbers and not musical notation. After finding we share a common goal of using music to create harmony between cultures, he picked a Shinto Prayer with a theme to cleanse the soul and resonate peace in the world. I noticed that this prayer had a strong rhythm and pitch to it.
The head priest Naohiko Takeuchi chants a Shinto Prayer
Once I heard the chant together with the three traditional instruments (Sho, Shichiriki & Ryutki) I could hear the rhythm of the remix playing in my head. However we had to think very quickly how to achieve that result as time and daylight was limited!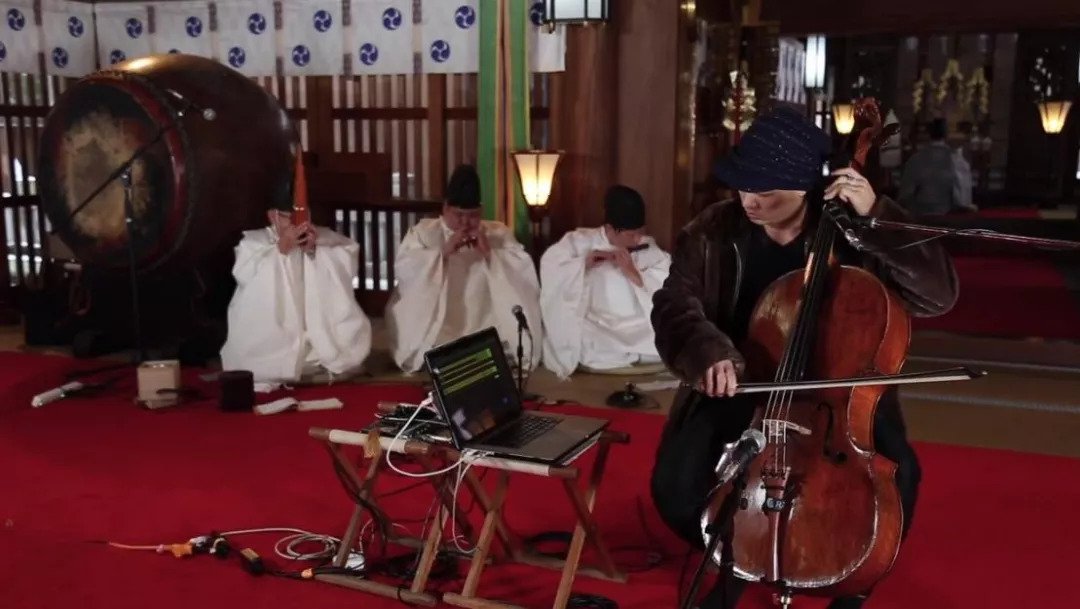 Dana Leong plays with traditional Japanese instrument musicians
The beat came to me almost immediately and then I visualized how each of the sounds would fit together in my mind. I decided we could record it in layers and began to visualize and further compose the layers in my head on the spot. First we would record the Naohiko's Chant with the instruments so we could use his chant as the basis for a rhythm. Next we recorded a layer with just the instruments and then the drum beat. This was my chance to have a clean copy of the instruments while also having one chance to hear and memorize the song! I then recorded loops of cello rhythms and long notes which I knew could be added into hypnotic sweeps and fit together in tempo and harmony.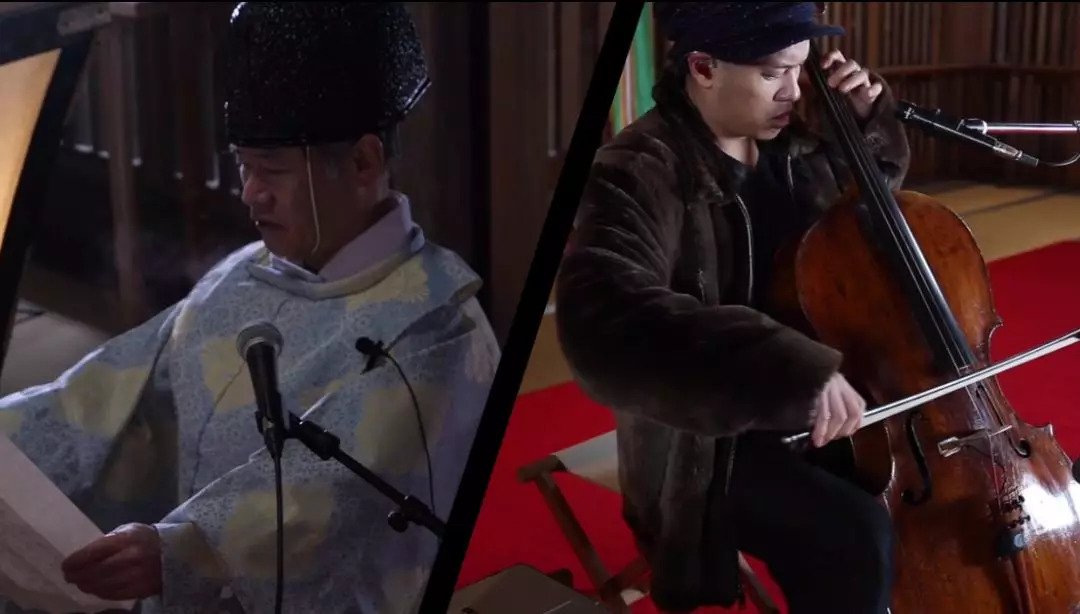 These days every composer uses computer software to "paint blocks of sound" onto the screen and then mix them together accordingly. I filmed the cello parts as one long video take, imagining what the layers would sound like once they were all assembled. It was almost like painting a picture while blindfolded. Some people do this with a loop pedal, but knowing our end result it was going to be video, I felt it would be more useful way to see the layers being built. Since I do not read the same numeric notation I did my best to memorize the melodies that the musicians were playing and then play my own version in the rhythm that I wanted.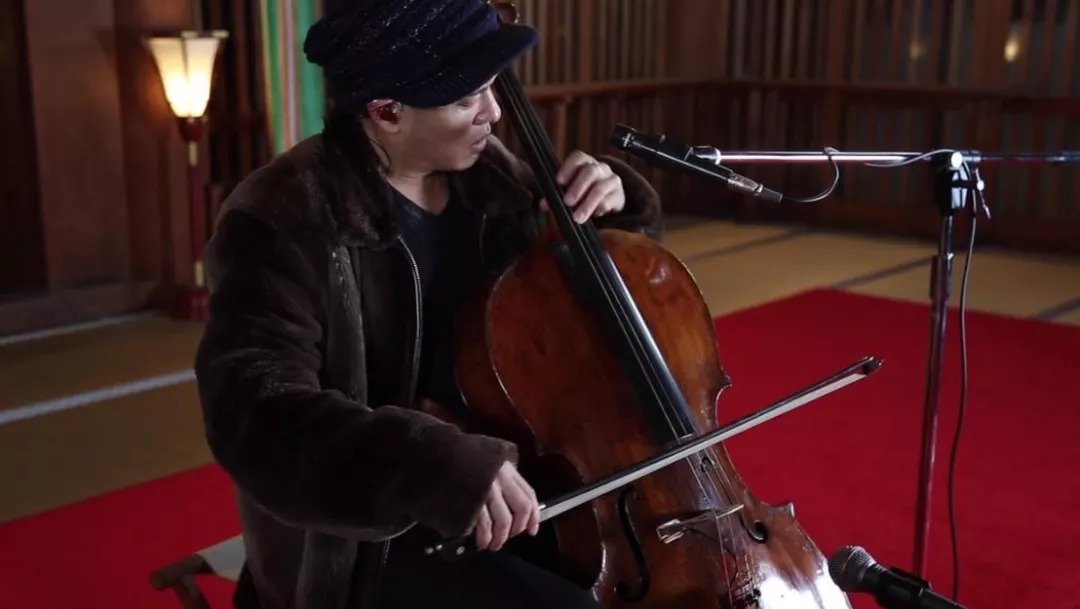 Dana Leong plays cello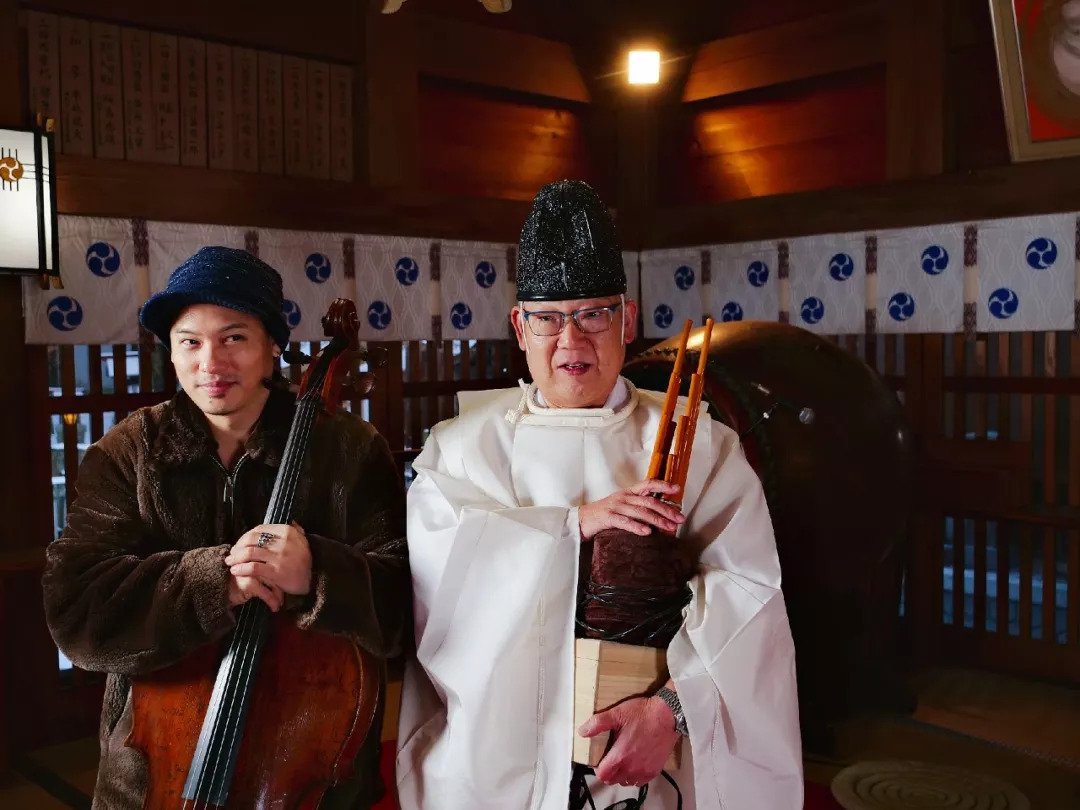 Dana Leong with Japanese traditional music player
After this, we took all the layers and crafted the final remix that you can hear in the video. I hope you will enjoy and be inspired to share it. This certainly would not have been possible without the support of executive producer Shingo Komatsu, who's family has been members of the shrine for many generations and our wonderful director/producer team Takahiro Ozawa and Michiko Zentoh (the former producer for Anthony Bourdain) who helped me understand the cultural history and importance of this time and place. There is something truly special about trusting the process and people who come into your life. Let's continue to celebrate and embrace that harmony heals.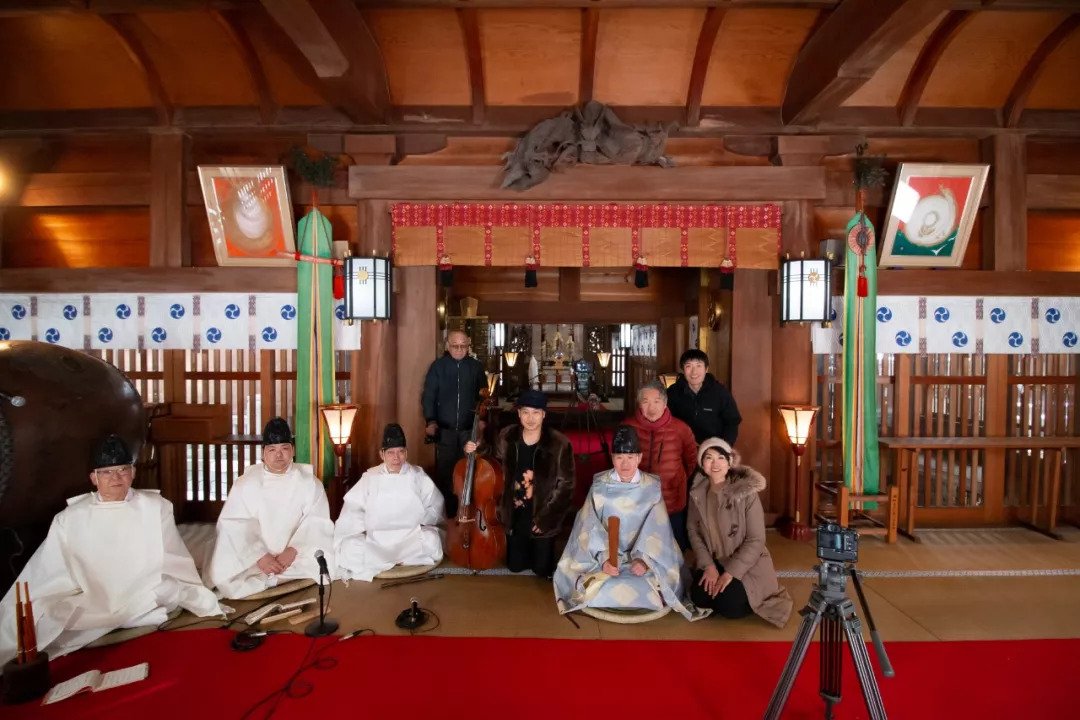 Dana Leong and his team collaborate with Nyakuichioji Shrine
---
After deep understanding of cultural connotation, Dana Leong expresses his feelings through the crossing border music, so as to promote communication and understanding between different cultures, and contribute to world peace.